Our vendors are the heart of the operation. They grow, produce and craft the products they sell, and they do it right here in our local community.
We're still in the midst of the application process for our 2018 season so do not yet have a full list of who will be joining us for the summer. Scroll down to find a partial list of our 2018 Vendors, and come back often to see more vendors added over the next few weeks!
Want to be a vendor at the Jericho Farmers' Market? Applications for the 2018 Season are currently open, and can be found here.
Veggies & More
Home Farm
Humble Rain Farm
Loose Pig Farm
Other Agricultural Products
Farmer Brown
Mountain Creek Apiary
Poker Hill Gardens
Rolling Meadows Farm*
Under the Hill Farm*
Walker Maple
Crafters & Artisans
Barn Owl VT
Hounds Bay Woodworking
Jennifer Dirkmaat
LEDBTRdesigns*
Lotus & Lilly*
Morgan Quimby Photography*
Unique Bird Houses
Other Vendors
Etherium Massage & Bodywork*
Green Acres Homestead
King Girls' Bread
Smugglers Notch Distillery*
*New vendor for 2018!
Prepared Food Vendors
Green Mountain Kettle Corn*
Mediterranean Mix
Mostar Home Catering
Northern Fire & Slice
PapaGyro's*
Pie Empire
Day Vendors for 2018 include...
Poker Hill Arts & Studio Acanto*
Sunny Day Flower Farm*
Vermont Custom Pallets*
Aromaticah (Nicaraguan & Spanish food)
Melanie Cote - Reiki Practioner*
Proper Pups Snacks*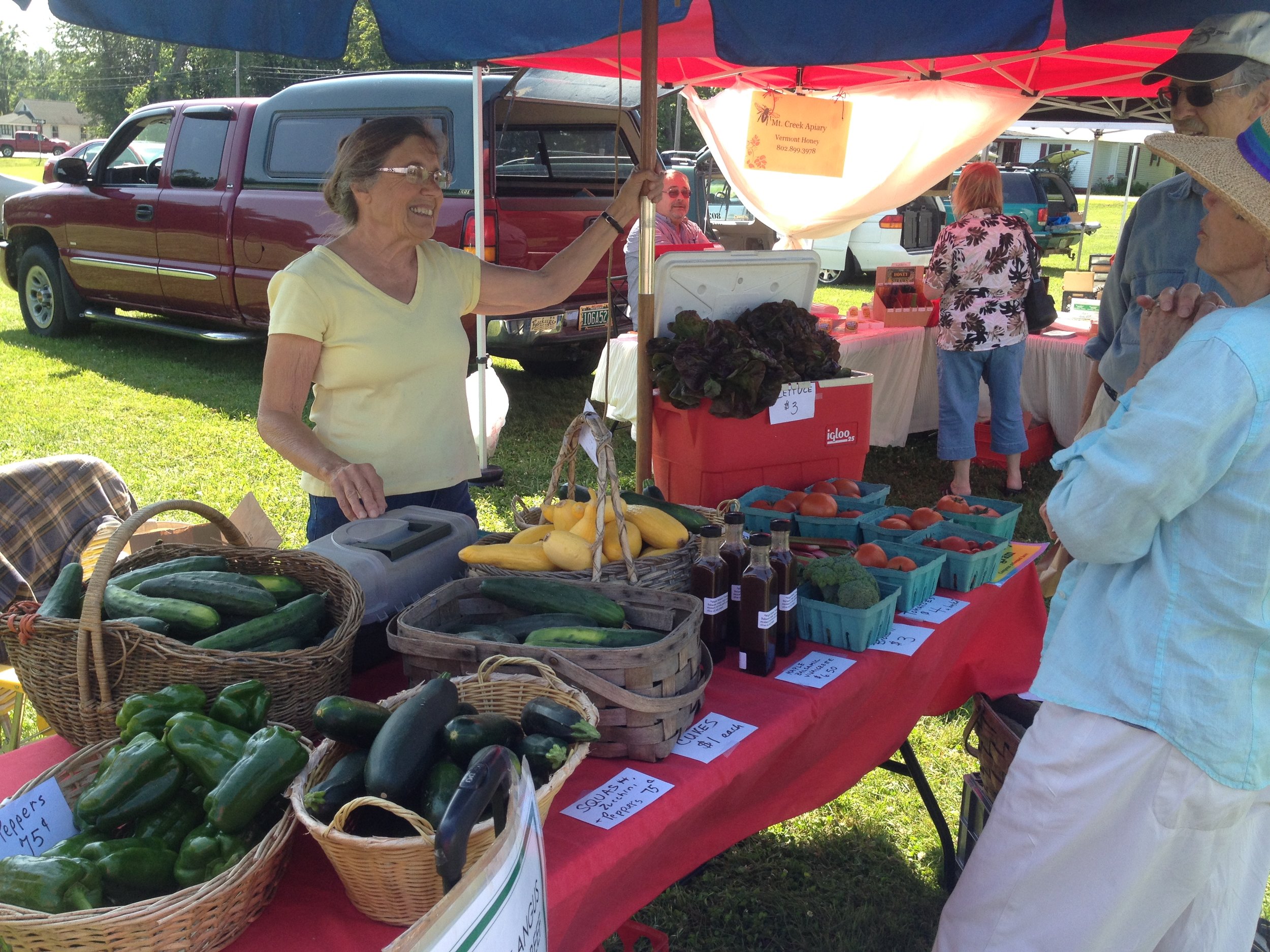 Janet & Perry farm vegetables, beef and apples on their farm in Westford.
Our Artisian Pizza is made with natural ingredients and seasonal products from local growers whenever possible. We make our own dough using Rock Art Beer and High Gluten Flour giving our wood fired pizza a unique taste.
Our Pizza starts with our own homemade red tomato sauce, pesto or garlic & herb infused olive oil and is topped with a variety of fresh toppings and cheeses to create the most delicious pizza you will ever experience
We use beach and maple hardwood and our Copper Wood Fired Oven bakes pizza at 700 -800 degrees, producing a tender crust with a delicious flavor that only a wood fire can give.
Barn Owl is a local business providing handmade felted soap with locally inspired materials. Choose from a variety of different soaps and then choose your design preference.
Felted soap is a fun and socially responsible way to spend your money on hygiene. It supports local enthusiasm as well as sustainable living practices.
Dennis Grage creates beautiful wooden bowls and other products in his studio in Underhill.
From his website:
I consider my work very natural and organic, containing many of the wood's original characteristics. I turn green wood, embracing the effects of drying, which may include distortion and cracking. It is important that each bowl contain elements of the tree it came from, the texture, form, color, and decay. Many of my bowls have natural edges, with the bark still attached. Others are without the bark but still maintain the outside shape of the tree. I am cautious of adding too much detail to a piece, that it may distract from its natural beauty. I enjoy the creative freedom I now have after decades of following blue prints and interpreting the visions of architects and their clients
Paul brings delicious honey and honey products to us from his hives in Underhill.
He also serves on the Board of Directors of the Market!